Transformed CPIM for Today's Busy Professionals
>>> Contact 089-926-2779 for more information.<<<
Introducing the new CPIM Version 7.1
Streamlined to meet the needs of today's busy supply chain professional
CPIM Transformation – The NEW CPIM Version 7.1
The new CPIM Version 7.1 include:
Only 2 exams – CPIM Part 1 and CPIM Part 2 – required to earn the CPIM credential.
Streamlined certification experience gets you certified faster.
Updated format delivers the same CPIM knowledge and skills in a focused program to meet the training needs of today's busy supply chain professionals.
 APICS certification (ASCM) is the global leader in supply chain organizational transformation, innovation and leadership. As the largest nonprofit association for supply chain.
The APICS Training Partner program offers globally recognized, supply chain educational content to develop individuals and support the corporate transformation experience. Forge deeper relationships with your customers that could lead to increased training and overall consulting project opportunities.

or more information >>>> Small Group Training : design your own date now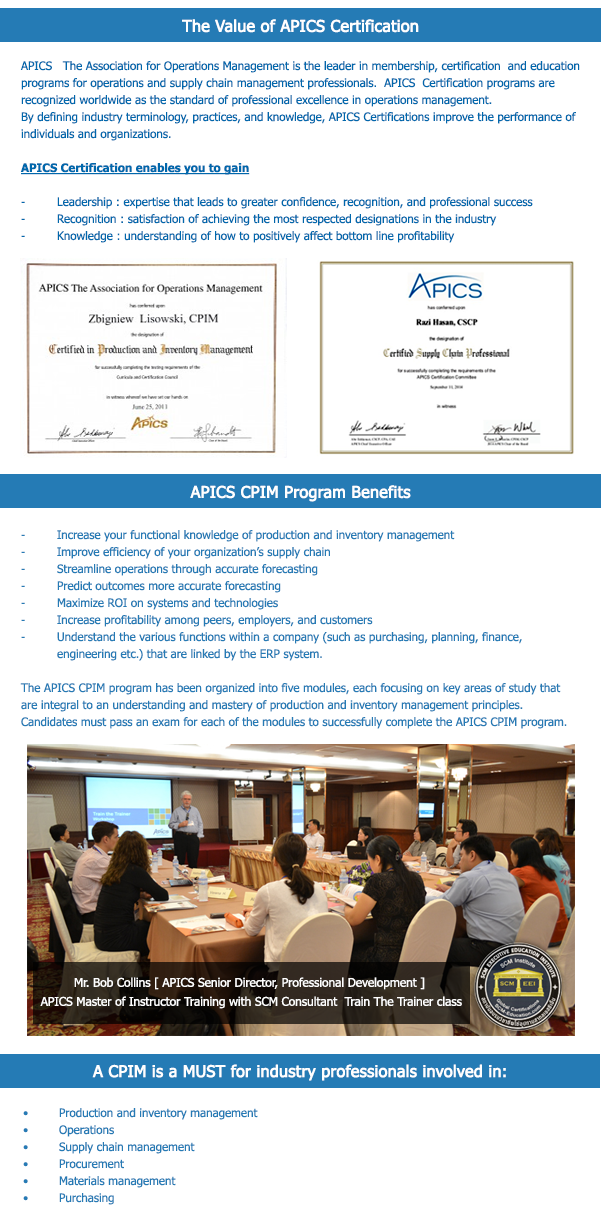 Courses / หลักสูตรต่างๆ
In-House Training
สำหรับ In-House และ Small Group Training จะเป็นการจัดอบรมพิเศษ โดยผู้เรียนสามารถจัดกลุ่มได้ถึง 15 ท่าน พร้อมกำหนดวันและเวลาที่ต้องการได้ T. 089-926-2779