Transformed CPIM for Today's Busy Professionals
The APICS Certified in Production and Inventory Management (CPIM) is known as the premier certification for internal supply chain business operations. Since CPIM's launch in 1973, more than 100,000 professionals have benefited from this globally recognized certification.
Companies and employers know that CPIM designees have the proven knowledge and skills to strategically streamline operations.  Now, APICS is streamlining the CPIM program to better serve the needs of the supply chain workforce – while maintaining the body of knowledge and integrity that has kept CPIM at the forefront of supply chain education.
Bob Collins :

APICS Senior Director, Profsional Development

A Conversation with Bob Collins, CFPIM, CIRM, CSCP; Sr. Director of Professional Development, APICS

Hey! I hear APICS is changing its CPIM Program. What is that about?

At APICS 2016 in Washington, D.C., APICS CEO Abe Eshkenazi announced that the iconic  Certified in Production and Inventory Management (CPIM) program will be reconfigured in 2017

APICS will be reducing the required number of exams from five to two exams. This Proposed change was recommended by a volunteer task force and approved by the APICS Board of Directors in July.
CPIM Transformation – The NEW CPIM Version 6.0
The new, streamlined CPIM program launches in September 2017. Features and benefits of the new CPIM Version 6.0 include:
Only 2 exams – CPIM Part 1 and CPIM Part 2 – required to earn the CPIM credential.
Already taken CPIM BSCM? – The current CPIM BSCM exam counts toward the new, streamlined CPIM Part 1.
Streamlined certification experience gets you certified faster.
Updated format delivers the same CPIM knowledge and skills in a focused program to meet the training needs of today's busy supply chain professionals.
New CPIM Learning System, a proven APICS certification preparation method that combines reading materials with online practice tests and tools.
Ability to purchase the entire CPIM bundle, including the complete CPIM Learning System, CPIM Part 1 exam and CPIM Part 2 exam.
Now Available:
Get the free preview of the APICS CPIM Exam Content Manual, Version 6.0:
CPIM Part 1 Exam Content Manual Preview – Download Now
CPIM Part 2 Exam Content Manual Preview – Download Now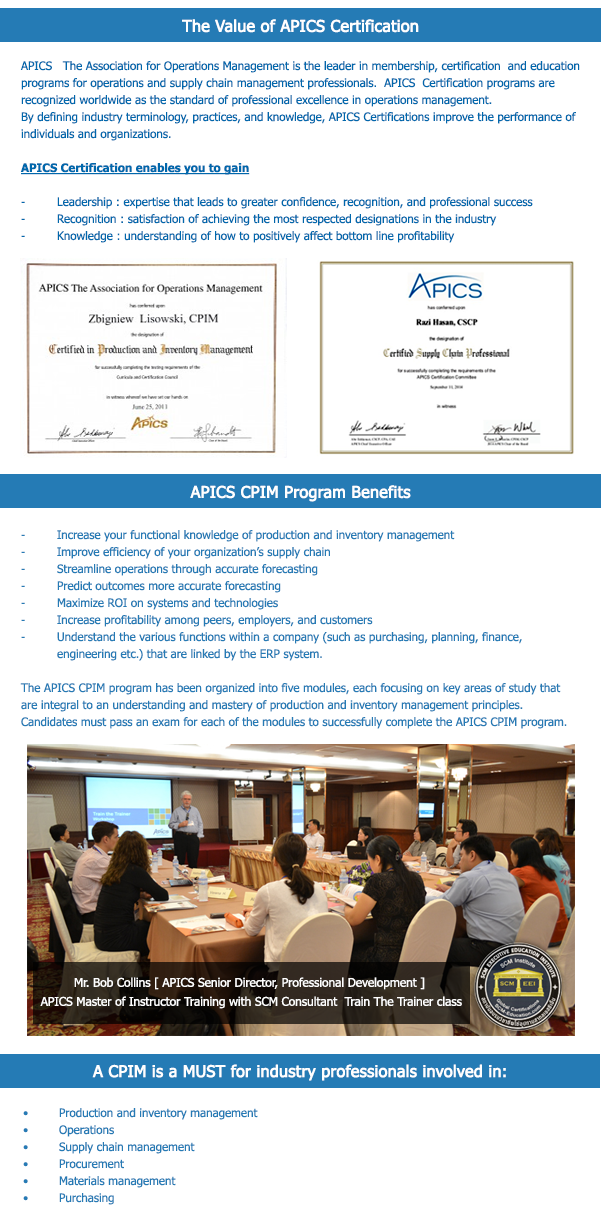 Courses / หลักสูตรต่างๆ
In-House Training
สำหรับ In-House Training จะเป็นการจัดอบรมพิเศษ โดยผู้เรียนสามารถจัดกลุ่มได้ถึง 15 ท่าน พร้อมกำหนดวันและเวลาที่ต้องการได้ T. 089-926-2779